Linking up with
Neely
for Sunday Social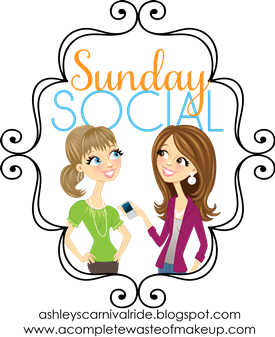 Name 4 jobs you've had in your life.
Nanny for triplets-3 summers...that was interesting!
Waitress at a local diner-This was my favorite job. I'd still work there on weekends and holidays if it was still open :(
B&BW sales person-I did this for one Christmas break in college and did not like it.
Dairy Queen-I worked there for 3 years in high school and had the best time with great friends!
Name 4 movies you would watch over and over.
Sweet Home Alabama
You've Got Mail
27 Dresses
Just Friends
When Harry Met Sally
Sleepless in Seattle
Enchanted
Okay, more than 4...but I love them!
Name 4 places you have lived.

My parents first
(suburb of Columbus)
My parent's second and third home where I grew up
(another suburb of Columbus)
College
My home
(suburb of Columbus)
Name 4 of your favorite foods.
Tacos X5
A good salad
Veggie Potstickers
Name 4 things you always carry with you.
Cell phone
Purse
Sweatshirt/jacket (I'm always cold)
Book (90% of the time)
Name 4 places you have been on vacation.
Disney
OBX
Chicago
Virginia Beach