Linking up for week for of Sunday Social. Since we were in OBX last week, I didn't get a chance to blog last Sunday because I was completely exhausted. But I'm excited for this weeks questions!!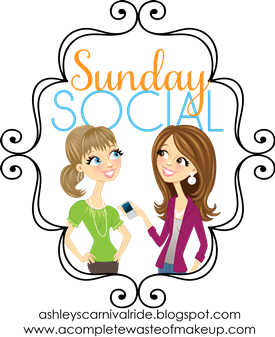 What is your favorite store to shop at?
Probably Ann Taylor Loft. I've been in a shopping rut lately. I go through these every once in a while. But I'm just not sure what styles I like and I feel like I have to be careful not to dress like my mom or my 18-year-old sister...especially being a teacher!
If you could afford anything and everything, which designer brand would you covet?
This is tough because I like different designers for different things. Clothes would be
separate
from shoes and purses. I'm not a big "brander" for clothes. I love Anthropology, but really don't shop there because they're pretty expensive. I shop at Ann Taylor Loft mainly when I have coupons and they have sales. But I do know that you get what you pay for in clothes, so I'd rather spend a little more and get better quality.
Purses-Bring it on! I love Michael Kors and own a bag of his already. I'm pretty sure I would have tears of joy if I ever had a Birkin bag. Chloe also has some adorable bags with pretty big price tags.
Must have closet staple?
Black turtle neck/long sleeved shirt/tshirt--you can dress it up or down, accessorize with a scarf, jewelry, or another piece on top!
Favorite kind of shoes? (brand or type)
I buy a lot of shoes at Target and Payless, however because I'm on my feet all day teaching, I've realized that I have to buy a better quality of shoe. I LOVE Aldo and also check Macy's a lot. I would love to own
a pair of Tory Burch and Louboutin ...one day!
Best clothing deal you've ever gotten? (sale or amazing find)
Hmmm...I purchased a dress for my sorority formal for $!5 one year. It was originally over $100 but had been marked down several times. It was pink with sparkle in the front.
Aside from that, I think I get pretty good deals at ATL when they have their big sales.
Style you'd love to try?
I've tried THREE styles the past year...that's big for me
1)The scarf. I never really wore scarves without a jacket but have really liked it!
2)The skinny belt. I wore a skinny belt with a cardigan a few times. My concensis is that I can't really pull it off that well because, while it shows off my smaller waist, it makes my hips looks much later than they already are--which is big.
3)Maxi dress. I purchased one last year and another this year. Sadly, they're both navy blue...why two of the same color, I don't know. I don't think they look great on me because I have short legs and I'm 5'4 but they're super comfortable!