Today I'm saying So What if...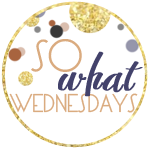 I called to find out when Santa will be at the mall and his first day is this Saturday. Saturday?? Really?
I also texted J and told him we are going to the mall one day right when they open and running to get in line. I do not want to wait in a line for hours...J does not do well with crowds!
I have a countdown in my head to go back to work and it's not a happy countdown. It's an, "I'm not ready to leave my baby" countdown. I'd do just about anything to be able to stay at home with her, even part time. But it's just not God's plan right now (or my student loans).
I have quite a few blog post ideas but just need to find the time to write them.
I'm worried about how I'm going to balance baby/husband/family/work/house when going back to work.
Oh, friends? What friends? I figured that comes later when I get myself somewhat together with a new schedule...hopefully.
We can't really find a church that we love. We've tried a couple but nothing just feels right.
I'm hoping for a lot of snow days this year. Snow days means spending more time with my sweet girl!
J and I still haven't had a date night since H was born. That's on our "to-do" list. We talk about it a lot though!