Linking up with
Shannon
today for So What? Wednesday!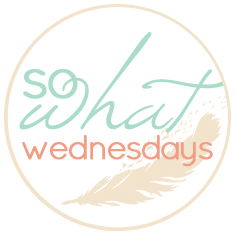 20 week bumpdate will be posted tomorrow, even though I'm 20 weeks today.
This week I'm saying
so what if...
I have a countdown on my computer at school as to how many days we have left and a check list of what needs to be completed before summer break. I can't wait!

I'm "collecting" diapers now. I know H may not like the kind that we have but it's a start. I can't complain if my mom is sending them to me every month!

I eat cereal with vanilla yogurt. I refuse to drink milk.

I talk to Oliver my dog like a human. I know he understands!

I'm obsessed with the Oh! Burger food truck. It's delicious and it rarely comes over to our side of town. I might be eating there today...for the second time in three weeks. It's mainly because it may not be back in our area the rest of the summer! Let's face it, I'm not going to drive around the city to find it. Although it is that good.

I'm excited for state testing because I know it means we're almost done with the school year. I love my kiddos and will miss them so much but this has been the year that will never end. Probably because I looped up with them (which definitely has more positives than negatives).