I haven't participated in SWW in quite sometime but I thought this week was very well fitting.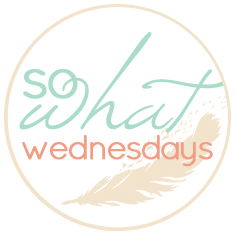 So what if...
I almost burnt down the house on Sunday. I was warming up pizza for Emily and I and stuck the entire box in the oven on 350*. Apparently paper burns...even as a pizza box. Thankfully J caught it in time and the pizza was not ruined.


I thought there was bleach stains on the ground for two days. I was freaking out. I even showed J and told him I don't know how on earth we got bleach stains (3 circles) on our master bedroom floor. Then I moved the laundry basket and they were gone. Yep, it was the sun and the laundry basket. Not my finest moment.


We had three boxes of cake mix that expired a year ago or more. Oops! My pantry is usually cleaned out pretty well but I guess I didn't think about cake.


I made brownies this week...and two weeks ago. I shouldn't be allowed in grocery stores.


I get super excited about the dinners I make. My mom cannot cook, therefore I never thought I could either. Over the past year, I've become quite good (if I do say so myself) and am proud of cooking a good usually healthy meal for J and I. Check out my Menu Mondays!


Yesterday was supposed to be laundry day. Instead I spent the morning cleaning then three hours on the phone with people I couldn't understand because they were located in different parts of the world. Thankfully three of the four were super nice. Then I rested because I swear the phone calls were giving me braxton hicks. #stressed


I pray every day that our home sells. We found a house we love and I don't want to loose it!


We have nothing done for Hadley's room. See above statement. It will get there.


I can say pregnancy brain is officially on overload.