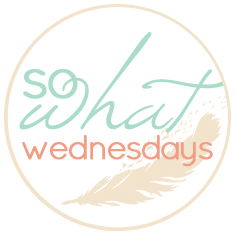 I'm loving So What Wednesday lately...probably because of my pregnancy brain and my summer off of work. So here is what I'm saying
So What
to this week...
So what if...
I did my grocery shopping at Walmart this week. Did I mention I despise Walmart? The sad thing is that I think I actually saved money (after buying two new skillets that we desperately needed). #hatetoadmitit


I took my car into the dealership yesterday with printouts in my hand about my seat fabric being recalled (water stains it--no joke) and my gas tank being recalled due to explosion. They told me over the phone when I made the appointment that they couldn't do anything about it. So I J did my homework and I proved them wrong!


I read Reality Steve again. Oops! I just had to. I had a good idea as to who wins the Bachelorette and had to check if I was correct--no worries, I was.


I love Tiny Prints.


I sleep on the couch just about every night. Some nights I try to make it in the bed but after a while I need to sit up and it's about impossible in the bed unless I have 923804928 pillows and kick J out. It's just easier to go to the couch.


I buy my furchild dog Frosty Paws (aka pupcream). He loves it and is his special Sunday night treat :)


I don't mind a fly or two getting in the house during the day. It keeps Wembley busy!