I had a few things
I'm loving
this week and a few things I'm saying "
so what
" to, so I decided to participate in both
Jamie
and
Shannon
's link ups!
What I'm loving this Wednesday...
Our crib is up!
The nursery will be done this weekend!
I won a $50 Walmart gift card and six months supply of Dr. Smith's products. Thank you Dr. Smiths and The Perfect Catch Blog for hosting the giveaway!!
J and I have scheduled a last special dinner for this Saturday at one of our favorite places
Baby girl will be here in less than a month! (scary too)
Things are finally coming together at home
I have two new piano students starting in September
I sold seven out of the nine purses I had for sale!
My Medela pump came in yesterday and it was free! Thank you Edgepark!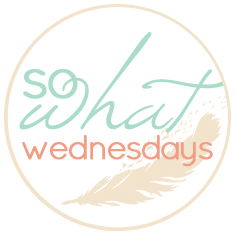 So what if...
I'm keeping this box in my family room because it keep my cat out of trouble and me sane. Trust me, it's worth it.
Last night I made dinner but neither J or I were that hungry. He ate cereal, I ate toast, and we're saving dinner for tomorrow. Whatever works!
I can't seem to remember what day of the week it is or the date. Normally I'm on top of it but this week I'm just out of it.
I have three more doctor appointments schedule. That's it. Wonder if I'll have to schedule any more?!
I'm still mad at Pottery Barn Kids for messing up our crib hardware three times. When we picked the bed up they gave us the wrong packet. We went back to get another packet, came home and realized we were missing pieces. Finally they shipped the correct hardware, which came yesterday, and we are good. It seriously should not take that much time...or be that difficult.
I have nothing done in my classroom and really have no motivation to go back. This is definitely a first!