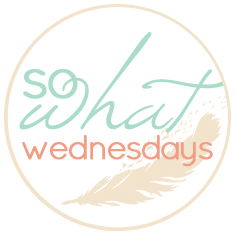 Today I'm saying So What If...
Our fair and Jazz and Ribs fest plans were a total flop. Thank you very much rain.
I went to visit my friend Katie in the hospital while she was in (early stages of) labor and I was panicking on the way there. I kept thinking, OMG I'M NEXT!
I asked J to bring me fresh basil and he brought me an entire basil plant. Yep. He thought it would save money in the long run, however it didn't even give me a cup of basil which I needed for the recipe.
Baby shower stuff is still all over the spare room. Waiting on paint!!
I'm obsessed with Pioneer Woman recipes. Seriously. I make at least two a week. Minimum.
I used to think Dr. Phil was trash and now I kind of like it. I think I've been watching too much Real Housewives.
My dad asked my mom if we were having a "Sip 'n Tip" party for Hadley. Um...not quite. Let's try Sip 'n SEE!