I've been waiting for SSW since Sunday...
So what if...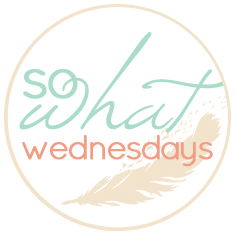 I cried over a glider this weekend. When I look back now it was stupid. But I am hormonal. I just want baby girl's room to be nice.
I'm obsessed with the Pioneer Woman. I want to be here when I grow up.
Aside from the rocker, I was also melting down because there were two dogs in a hot truck with the window only cracked. Stupid people!! You bet I wrote a note and left it on the car.
If I told J and my mom 100 times that stores need to have a variety of rockers in stock...for people like me who can't make up their mind and wait for the last minute. I might even open a store of just all kinds of gliders you can take home that day.
I called the police on a person with a puppy in the car last Thursday. It was so hot out and the window was just cracked. She went into the Sprint store and was there for 20 minutes before I called. 20 minutes later the police came. They just made her roll down her windows. Stupid. The poor dog was in the car over an hour! HORRIBLE! Why don't people get it?
I feel like a balloon. The swelling is for the birds. But at least I'm still feeling good and still so very thankful!
I love SWW. Sometimes you just need a good cry and good vent.